The wines of Georgia
Why not try some wines from the oldest wine making traditions in the planet?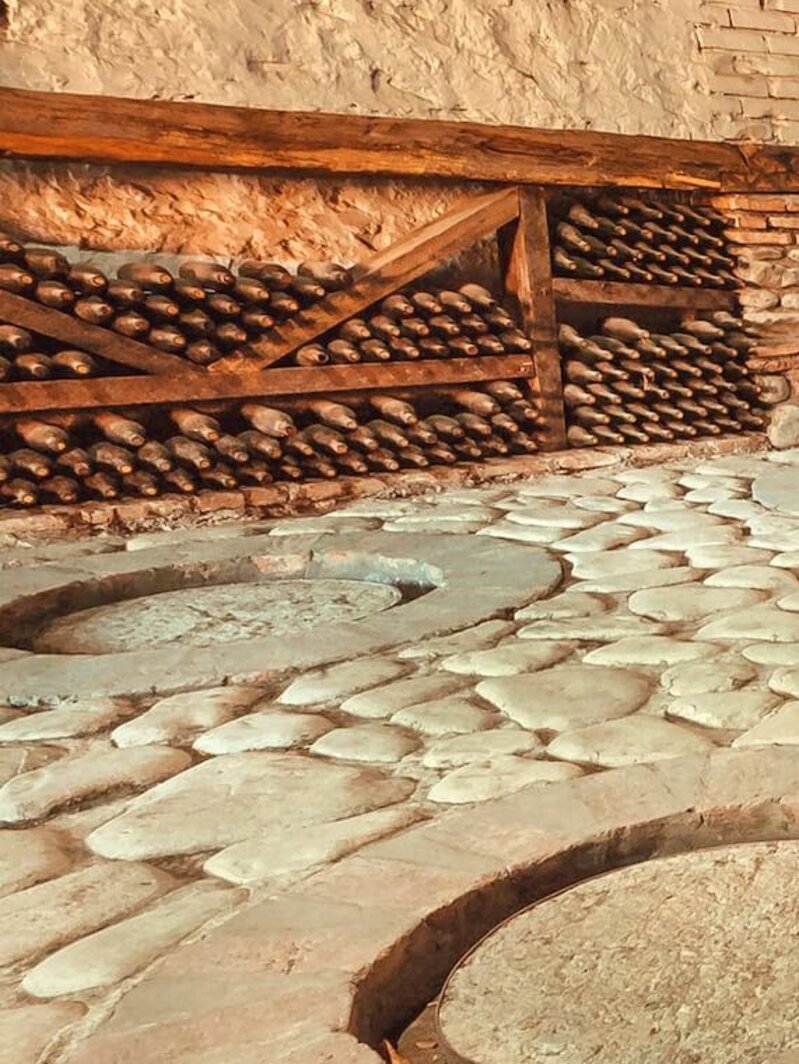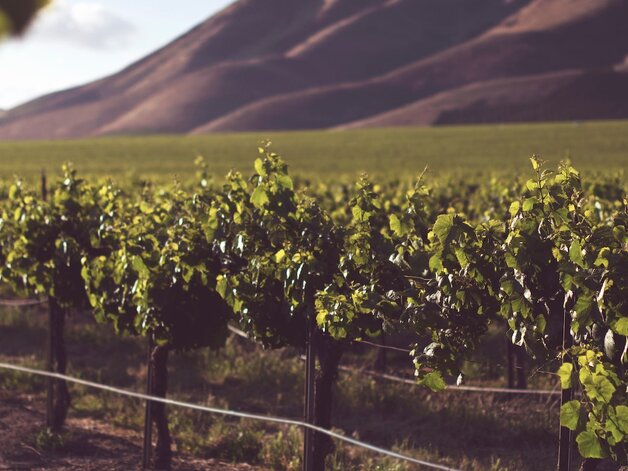 Wines of Georgia
Georgia has the most ancient winemaking traditions in the planet. The grape pips discovered at certain Georgian sites are dated to be over 8,000 years old, showing an old age tradition of winemaking. As proven by historic records, the so called "Qvevri" production method applied for winemaking is 5,000 years old, or more. The ancient Georgian winemaking process entails that the pressed grape juice is stored in clay jars sealed with beeswax (called "Qvevri" in Georgian), and kept in underground storage, to let it ferment at a permanently low temperature. Many winemakers in Georgia still follow this ancient winemaking tradition, up to the current day, which makes the wines of Georgia unique and uncopyable.
The special growing area for the over 500 different local grape varieties also makes Georgian wines unparalleled.
Get to know our wine selection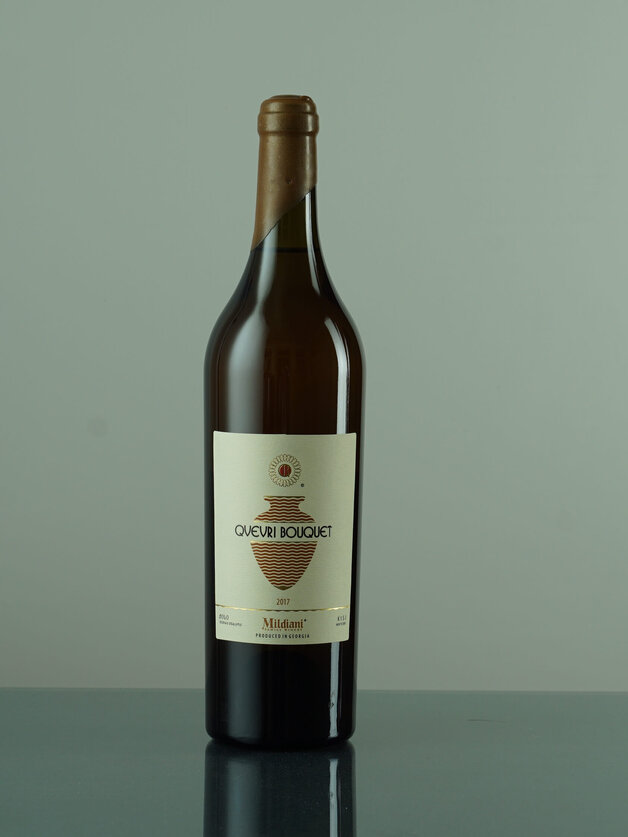 Kisi "Qvevri" 2017 (dry white wine) - by the Mildiani Winery
The Mildiani Vineyard is the leading winery of the gorgeous Kakheti region, at the foothills of the Caucasus mountains, being the maker of this excellent white wine, made of the specially aromatic "kisi" grape, one of the more than 500 indigenous grape varieties in Georgia.
Thanks to the Qvevri production method used, being the ancient winemaking technology in Georgia, and the grape variety traditional to the country, the wine is deep, transparent straw yellow in colour, with reflections. On the nose, it is mature but at the same time extremely fresh, with herbal notes, and floral honey and ripe citrus fruit tones. Ageing in a Qvevri for 6 months results in a unique flavour palette achieved, combining the notes of the nose with subtle tannins, a pleasant acidity, a hint of stone fruit, and a velvety bitterness. The wine is of a relatively fuller character, yet lightness and real elegance dominate the structure of this very likeable special orange tone wine.
It is an excellent choice for almond trout, chestnut turkey, aged semi-hard cheeses, or as an accompaniment to a good pheasant soup.
Recommended temperature for consumption: 10-12 °C
Contact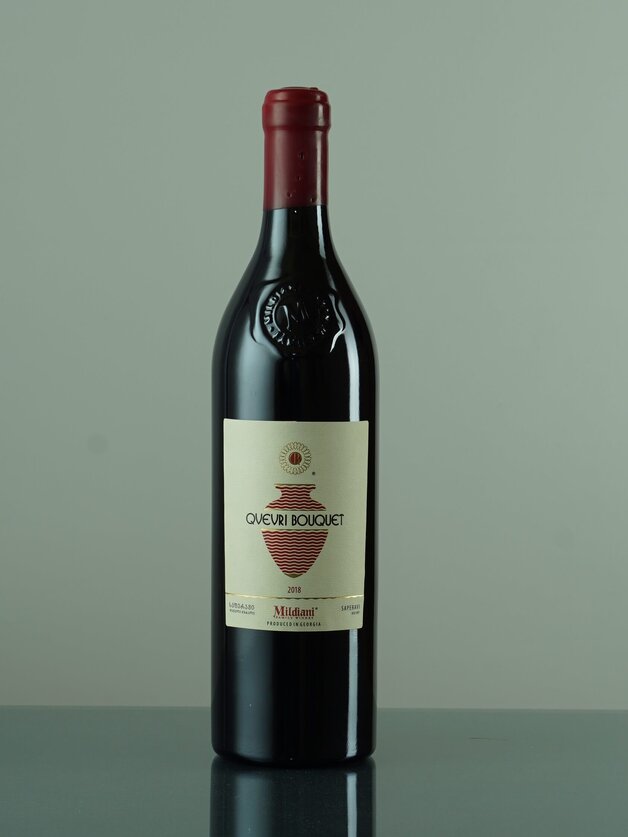 Saperavi "Qvevri" 2018 (dry red wine) - by the Mildiani Winery
Made of Georgia's emblematic blue grape variety, the "Saperavi", this full-bodied, formidable red wine is also produced via the "Qvevri" method of the region's old age traditions. The thicker skinned grape variety and the ageing method produced a wine with more intense colour nuances, with sharp reflections of purple violet, mixed with deeper ruby hues. The 6 month maturation in a Qvevri is thus already evident in the appearance. When poured into the glass, it has a very rich nose of perfectly ripe red and black fleshy fruits, oriental spices and earthy notes. The palate has an almost soft texture, led by concentrated aromatics. The flavours are dominated by cherry, blackcurrant, blackberry, dark chocolate, brandied cherries and an exciting spiciness. The almost sweet tannin, which pleasantly lingers on in the mouth, is complemented with softer acidity, but its freshness and dynamic feel is harmoniously kept in the persistent finish.
We recommend this wine with beef steaks, big game served with wild mushrooms and fruit.
Recommended temperature for consumption: 16-18 °C
Contact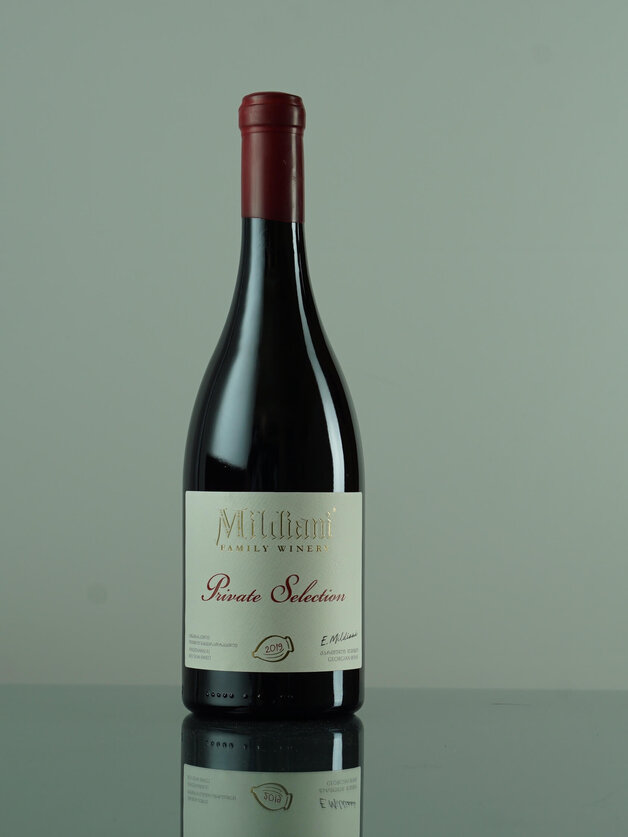 Kindzmarauli "Qvevri" 2019 (semi-sweet red wine) - by the Mildiani Winery
It is hard to come across this quality of wine even in Georgia, as the Winery owner commented. The Saperavi grape variety excels in this creation, which was born from overripe grapes, produced in a Qvevri. The relatively higher alcohol and natural residual sugar content do not detract from the harmony of the flavours, rather its pleasantly soft acidity balances via a noticeable freshness the wine's soft and sweet notes. Ageing is critical for this wine too, as the rich and mature tannins help to build up the zest and support the softer acids. This concentrated, layered and full-bodied wine is a rich plethora of flavours of overripe black-fleshed fruit, which may solely be made in exceptional vintages, even in the Kakheti region. The wine leaves a lasting memory in the mouth with its almost never-ending sweet fruity finish, and velvety tannins.
It's a pleasure to taste on its own, but it also pairs well with brown-meat poultry, or blue cheese served with dried fruit.
Recommended temperature for consumption: 16-18 ​​°C
Contact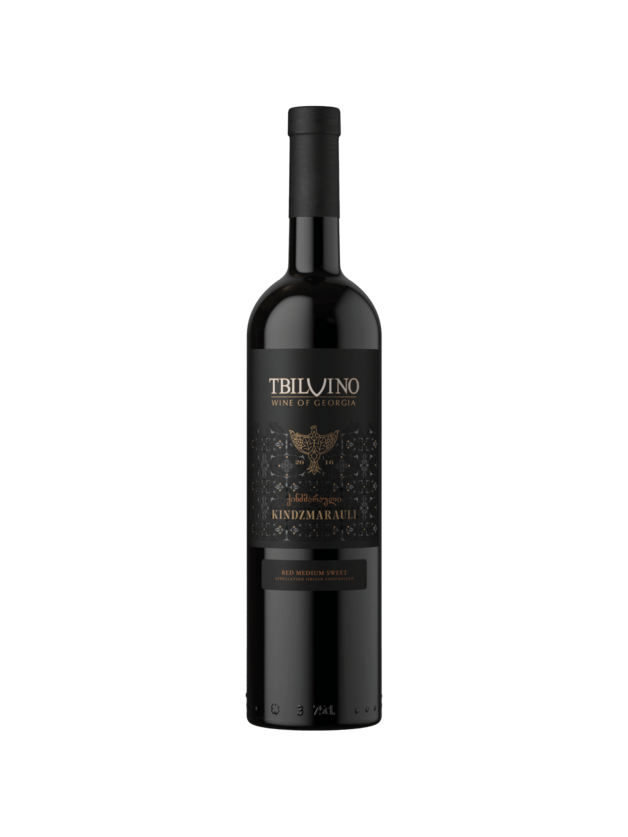 Kindzmarauli 2020 (semi-sweet red wine) - by the Tbilvino Winery
A semi-sweet red wine with protected authentic origin mark, from the Khakheti region of Georgia, and within that, the Kindzmarauli sub-region. Hand picked from the ripe - and slightly overripe - fruit of the local SAPERAVI grape variety, it owes its sweet character to the residual sugar from the grapes.
It has a deep ruby colour, almost bubbling in the glass, and shows a soft, full-bodied appearance.
Slow-opening nose of wild blackberry, black cherry and sweet spices.
Tasting this wine, it has a velvety but firm structure, with mature, soft tannins, a delicate acidity for its sweetness, and a finish with chocolate and cloves, and a familiar fruitiness on the nose, with low alcohol content.
This wine is a good accompaniment to chocolate or chocolate cakes, but it is also excellent with ripe, sweet berry salads.
Recommended temperature for consumption: 16-18 °C
Contact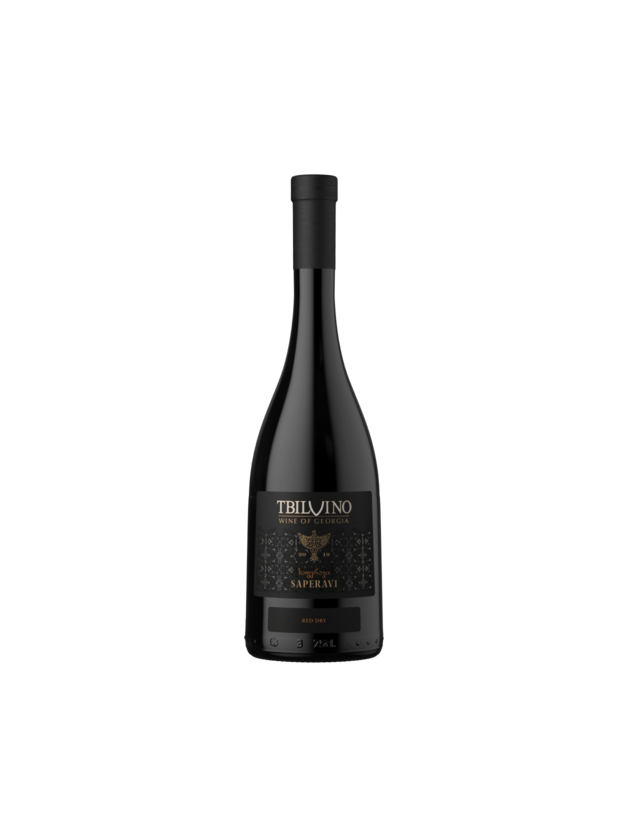 Saperavi 2021 (dry red wine) - by the Tbilvino Winery
SAPERAVI is an ancient Georgian grape variety, the name meaning: "gives colour to something".
As result, it is a deep-coloured dry red wine, with sweet tannins from ripe grapes.
Deep ruby colour with purple reflections and elegant application on the glass wall.
On the nose, it is predominantly cherry, blackberry and sweet spices, all subtly framed by notes of new oak. On the palate, forest berry fruit mixes with Liquorice and Vanilla, with powerful but velvety tannins, and a mature acidity backdrop.
It goes will with rich stews, or a spicy roast lamb.
Recommended temperature for consumption: 16-18 °C
Contact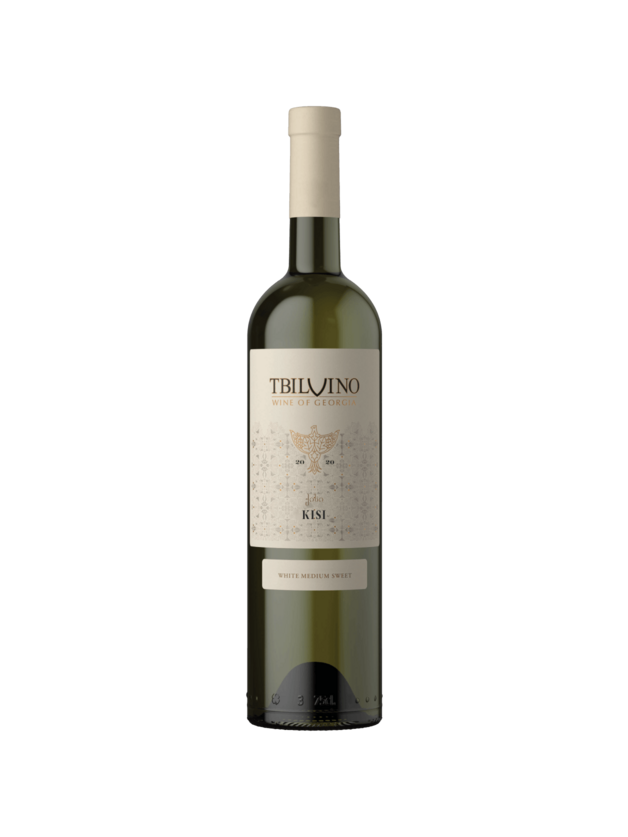 Kisi 2021 (semi-sweet white wine) - by the Tbilvino Winery
A semi-sweet white wine from the Khakheti region, of the Eastern part of Georgia.
KISI is an ancient Georgian grape variety, preserved from extinction by the traditional winemakers.
Thanks to the gentle harvesting of the ripe grapes and modern winemaking technology, the wine has a clean aroma and flavour, with a pleasantly sweet character.
Pale straw yellow in colour, it has a youthful peach and nectarine nose, with hints of acacia blossom, and a touch of honey.
On the palate, it is semi-sweet, with nice acidity, ripe fruity finish and great balance.
Recommended for spicy Asian dishes, or not too sugary desserts.
Recommended temperature for consumption: 10-12 °C
Contact
Contact
Address

Phone number

Email address